Flotation Machinery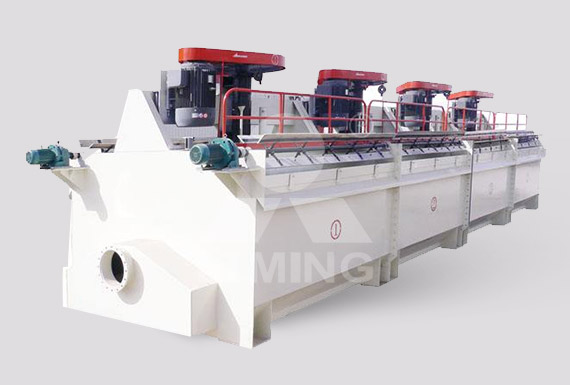 Stable, Efficient, Convenient
Flotation machinery can separate colored and ferrous metal mineral, and those non-metals such as fluorite, talc can also be processed by this machine. Flotation machinery takes advantages of outstanding performance, easy adjusting and good stability.
Applications: The machine can be used to separate nonferrous metal, ferrous metal, noble metal, nonmetallic mine, chemical material and recycle mine.
PDF Download Gallery send e-mail info@limingco-group.com
Chat Online
Leave Message
Overview
Flotation machine is widely used in gold, copper, lead and zinc, and other metals mines for useful minerals in sorting operations.
Learn More About Liming® Flotation Machinery
1. High inhalation, low power.
2. Each chute can inhale gas, sink magma, separate.
3. There is no need of accessory equipments horizontal equipment, it is easy to change the flow chart.
4. The cycling way of magma is very reasonable, it can reduce the impurities to a great extent.
5. There is automatic equipment on the magma surface, it is easy to adjust.
6. The upward one makes the magma cycle toward upward, which the downward one makes the magma cycle downward.
Working Principle
The flotation cell is driven by a motor triangular substituting transmission when impeller rotates,on the one hand, suction sufficient air is mixed with the slurry, on the other hand, stir the slurry mixed with the drug while refinement of the foam, make the mineral adhesive above of the foam. To adjust the height of the gate and to control of the liquid level are the useful ways for foam scraper by being scraped off.
Specifications - Technical Data
More Liming® Mining Machine you may interest
More

+
INFO REQUEST
Thank you for your interest in Liming Heavy Industry. If you want to learn more about our Crushers and Industrial grinding mills,
Contact us Now to find out what we can do for you next project !
Focus on Quality, Serve Worldwide
Establish strong sales service system with full coverage for 6 continents, 140 countries.
Whatever your requirements, you 'll find the perfect service-oriented solution to match your specific needs with our help.
Right where you need us,whenever you need us
ATTENTION! WE HAVE ONE-STOP SPARE-PARTS SUPPLY CHAIN All kinds of parts, Full range of models