Products List
2009 Annual Work Summary Conference Was Successfully Held
Author:News Center Post Date:2010-1-9
On January 8, 2010, Henan Liming Heavy Industry Science & Technology Co., Ltd. (former Henan Liming Road & Bridge Heavy Industry Co., Ltd.) 2009 annual closing meeting was held at the Guanghua Hotel. Human Resources Manager Jingliang Qiao gave an opening statement. Combined with domestic and international market situation in 2009, he gave a comprehensive summary report on the company's key achievements in various departments, as well as shortcomings in the work. Group Chairman Songke Yang and company's principal responsible persons of various departments all attended the meeting.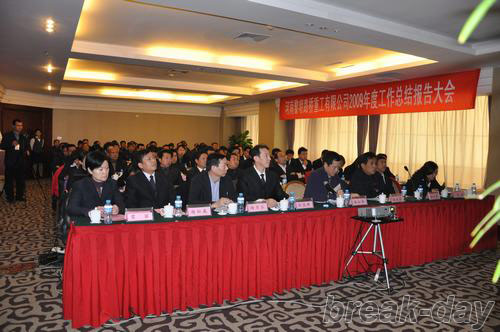 During the meeting, the company's production center, R & D center, sales, finance and various departments' responsible persons carried out a detailed report on the main work in 2009 and analyzed the sector's main content in detail and objectively. Company leaders listened their report carefully.
After group chairman Songke Yang listened to all departments' summary report, he issued a concluding statement on the company's work in the current year. According to the total domestic and international market conditions in 2009, manager Yang spoke highly of each department's active collaboration and their working together to overcome difficulties and ultimately achieved outstanding results. At the same time he put forward a clear improvement on the inadequates of individual aspects in operating and presented the company's priorities and overall strategic goals. Finally he encouraged everyone to make persistent efforts, have the courage to challenge and created another brilliance.