Products List
China Top Enterprises and China Credit Example Certificate
Author:liming Post Date:2011-2-14
Henan Liming Heavy Industry Science & Technology Co., Ltd is so famous and specialized in producing mining machinery that it has been issued two plaques China Top Enterprises and China Credit Example Certificate by China Internet Information Center.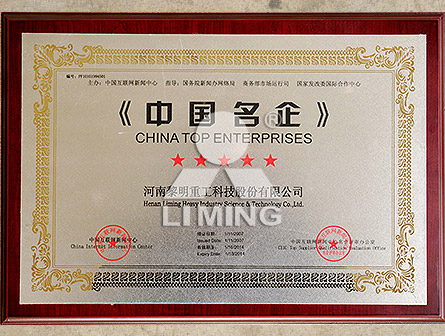 Liming Heavy Industry is a joint-stock enterprise that mainly produces crusher, stone crusher, jaw crusher, ball mill, Raymond mill, vertical mill, micro powder mill, sand making machine etc. With high-quality products and service, and good reputation, Liming Heavy Industry has ever been issued several certificates. This time, it is acknowledged as China Top Enterprises and received China Credit Example Certificate.
As a glistening pearl in domestic machinery manufacturing industry, Liming Heavy Industry always makes efforts to provide customers with the all-round product solutions. I believe that the brand LIMING will be known by people all over the world in the near future.