Liming Heavy Industry: Large mining stone crusher machinery manufacturer
In recent years, with the rapid development of the global economy, especially the modern industry, Metal mining, metallurgy, chemical industry, construction, railway construction, cement, gravel and other industrial sectors and engineering field all have a substantial increase in demand for ore material. Ore material accupy a important position in the world economic development and infrastructure construction.
In this strong demand state, various of mining equipment manufacturing enterprises have emerged. This enriched mining machinery market, but also inevitably lead to some unqualified enterprises swoop, making mineral machinery market was mixed, which brought great distress for customers to choose equipment.
Therefore, in the purchase of mining crushing machinery, we must choose large, powerful, credible, secure mining equipment manufacture, it can provide the most basic protection for ore processing operations.
Liming Heavy Industry
is a professional large-scale manufacture of mining crushing and screening equipment and industrial mill equipment. It introduced and learnt foreign advanced technology, combined with its own rich experience in research and development, for a variety of ores, rock properties, developed and produced Jaw Crusher, European Jaw Crusher, Spring Cone Crusher, Hydraulic Cone Crusher, Impact Crusher, European Impact Crusher, Sand Making Machine and Mobile Crushing Plant and a series of high-performance
mining crushing equipment
.
Many global customer production sites also proved that Liming Heavy Industry is a large professional developer and manufacturer of mining equipment manufacturer. Its series of equipment has been widely used in quarry,
stone crusher line
, sand gravel crushing and ore processing plant and demonstrated unparalleled superiority in primary crushing, secondary crushing, fine crushing, ultrafine crushing and grinding operations of iron ore, manganese ore, copper ore, diamond, feldspar, calcite, dolomite, quartz stone, marble, granite, basalt stones, pebbles, river gravel, limestone, sericite, chlorite, alunite rare earth ore and other minerals, rocks.
Liming Heavy Industry has enjoyed a high reputation in industry and customers.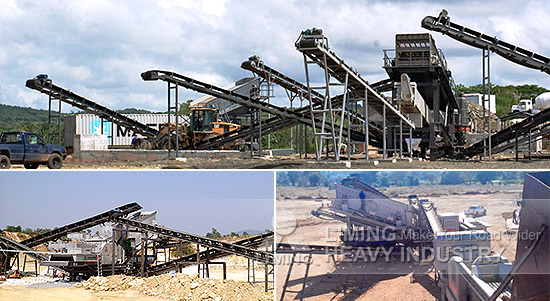 <<Previous:Liming Heavy Industry sells five sets of Crawler type Mobile Crushing Plant to Russian
<<Next:Thousands of crushers and grinding mills of Liming Heavy Industry are export to Shanghai Cooperation Organization member states