Follow-up report of EXPOMINA PERU 2016
EXPOMINA PERU 2016 is the largest mining exhibition of Peru. Liming Heavy Industry took part in the exhibition. In the exhibition site, we showed our
stone crusher
and
grinding mill
and introduced the latest technology to our customers. Some customers expressed their intention to buy equipment on the spot, and had detailed negotiations about the relevant programs.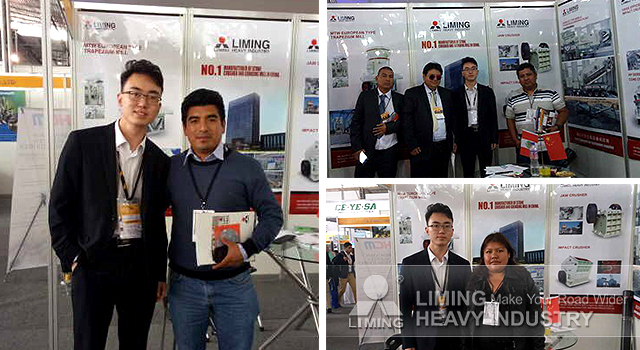 The show ended, but we will visit local customers for a week from september 18 to 23. If you have any problem, feel free to contact our local manager, Jockey, his phone number is: 0051949219154.
We look forward to meeting you and give you more support!
<<Previous:Two sets MTW175 European Trapezium Mill help large limestone powder production line in South Africa
<<Next:Liming Heavy Industry will visit customers in Uzbekistan and participate in the MiningWorld Uzbekistan 2016
Copyright © 2004-2020 by China Liming Heavy Industry Science and Technology Co. LTD All rights reserved