MINING Myanmar 2014
The International Mining Myanmar Conference, the first conference of its kind, is being held in association with Mining Myanmar - the 2nd International Mining and Minerals Recovery Exhibition. With the opening up of the country to investment and development Myanmar is prime territory for the discovery of new and high quality deposits. While there is a fledging existing mining industry, there is huge potential for growth; as well as the opportunity to apply more mechanised and advanced mining methods and technology to current and future mining operations. The conference will cover regulation/legislation in the country, resource and reserve reporting, environmental aspects, the existing mining industry, junior miner activities, as well as options for equipment supply and contract mining.
Liming Heavy Industry is ready for the MINING Myanmar 2014 on October 30. You can contact our sales manager or come to our booth to know our mining machinery, such as crusher, grinding mill, sand making machine, etc.. We will give you the warmly welcome and best service.

Exhibition Name
: MINING Myanmar 2014
Date
: 30 Oct. - 1 Nov., 2014
Venue
: Myanmar Convention Centre (MCC), Yangon
Booth NO.
: H5
Contact
: Ms. Ivy 18737131891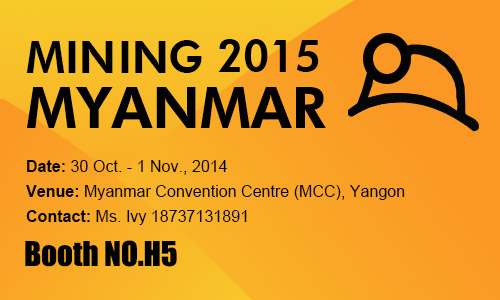 <<Previous:The route of our sales managers in Malaysia
<<Next:China Mining Congress & Expo 2014