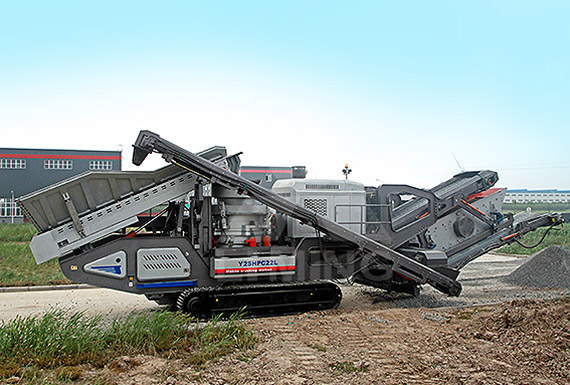 Crawler Mobile Crusher
Portable, Movable, Rugged, Reliable
As crushing and screening equipment, Crawler type Mobile Crushing Plant with pedrail can move on the production site automatically. This patented machine is possess of mature idea and accurate system, which can be adapted to mountainous region, wet land, etc. landforms.
Applications: Mining, metallurgy, construction, highway, railway, and water conservancy, etc.
---
Gallery send e-mail info@limingco-group.com
Chat Online
Leave Message
Learn More About Liming® Crawler type Mobile Crushing Plant
1. Excellent performance of power system.
It is adopts Cummins diesel engine, low oil consumption, low noise. And we can equip a low-temperature preheating device so that the equipment is able to start at -25℃ low temperature environment.
2. Ship-shaped steel chassis.
It is of high intensity, low on ground pressure etc. And it is easy to be transported on different terrains like mountain and marsh.
3. High-torque moving motor.
It is of strong driving force and perfect performance, thus providing reliable power source to the running system.
4. Servo -system.
It is of easy operation and precise control, and can realize Continuously Variable Transmission.
5. Efficient and mature crushing and screening equipment.
The crushing and screening plant uses our company's advanced products so that ensure the good quality of complete set of equipment.
6. Both electricity and diesel oil power device with intelligent dual power switch.
The machine can be operated by local electric power. Thus the operating cost will be cut down and the emission of CO2 and nitrogen oxides is highly reduced. When there is electricity breakdown and under voltage, the diesel oil power device will be started to work to guarantee the continuous operation of the machine.
Specifications - Technical Data

Maintenance tips
1

The equipment should be lubricated according to requirements, and you should pay attention to the oil temperature, oil pressure, flow rate and other parameters.

2

When excessive noise or vibration occurs during the operation, the equipment should be shut down and inspected quickly.

3

Pay attention to the product quality and productivity, in order to solve the problem as soon as we find it.
Service Support
1000 engineers will always provide service for your project
More Liming® Mobile Crushers you may interest
Info Request
Thank you for your interest in Liming Heavy Industry. If you want to learn more about our Crushers and Industrial grinding mills, Contact us Now to find out what we can do for you next project !
Copyright © 2004-2020 by China Liming Heavy Industry Science and Technology Co. LTD All rights reserved