LM Series Vertical Mill, Good choice for industrial milling
Focus on three major areas
Non-metallic minerals
Raw meal, desulfurization powder, gesso, weathered metal ore, non-metallic minerals and sinter, and etc. non inflammable and explosive materials whose Mohs hardness is below 4, density is blow 4.6, compressive strength is blow 170Mpa.
Coal powder
Coal powder which is used in thermal power, steel mill and coal powder injection boiler.
Slag
Slag, flyash, bauxite, metal ore, weathered quartz, feldspar, granite and etc. non inflammable and explosive materials whose Mohs hardness ranges from 4 to 6, density is blow 4.6, compressive strength ranges from 170Mpa to 240Mpa.
Based on four advantages
Low running costs
Grinding roller squashes materials on the millstone directly, which can reduce 30 or 40 percent of energy consumption. Grinding roller doesn't contact with millstone, so the service life will be longer.
High drying efficiency
Hot wind from outside will contact with powdery materials in the grinding mill directly. It can save a dryer because of high drying efficiency. Besides, it can meet requirements of materials with different humidity by adjusting the temperature of hot wind.
Stable product quality
Because of the short time materials staying in the grinding mill, it is easy to check and control the output size and chemical composition in order to reduce repetitive milling and stabilize product quality.
Green production process
There is slight shock and low noise. Hermetically-sealed structure makes no powder flow away when the machine works under negative pressure. It meets environmental protection requirements very well.
Structural analysis and working process
Structural analysis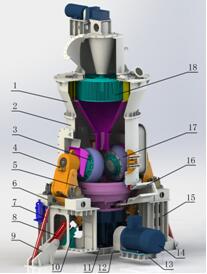 1.Classifier 2.Middle Body
3.Roller Assembly 4.Drive Arm Assembly
5.Millstone Assembly 6.Support Seat
7.Overhaul Cylinder 8.Working Cylinder
9.Oil-Cylinder Support Assembly
10.Stopper Assembly 11.Main Reducer
12.Reducer Base 13.Motor Base
14.Main Motor 15.Frame
16.Lower Body 17.Roll Sleeve 18.Rotor
Working process
Main motor drives millstone to turn by reducer, meanwhile hot wind will go into grinding mill from the air inlet. Materials will drop on the center of millstone from feed opening, and they move to edge because of centrifugal force. When going through roller area, big materials will be squashed by grinding roller, and fine powder after squeezed will finish interparticle comminution by forming solid bed. Materials going to millstone edge won't be taken away by air blast until they are enough fine. The fine powder going out of grinding mill will be collected and they are final products exactly.
Application case
LM170K Vertical Mill for quartz processing in India
Equipment: 3 sets of LM170K Vertical Mill
Input size: <42 mm
Output size: 150-200 mesh
Capacity: 30t/h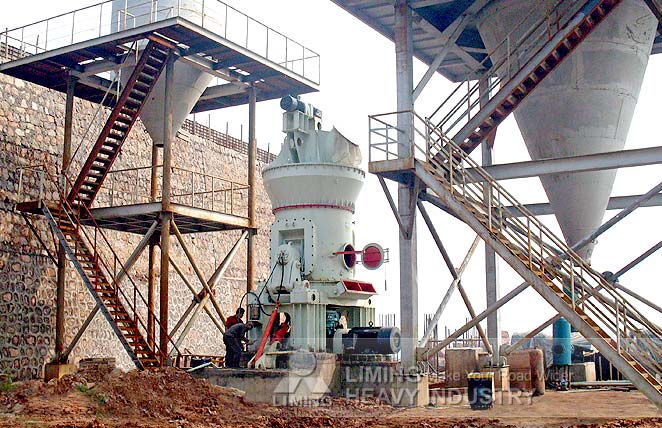 LM150M Vertical Mill for coal powder production in Australia
Equipment: 2 sets of LM150M Vertical Mill
Input size: <40 mm
Output size: <15% (R0.08) coal powder
Capacity: 18-20t/h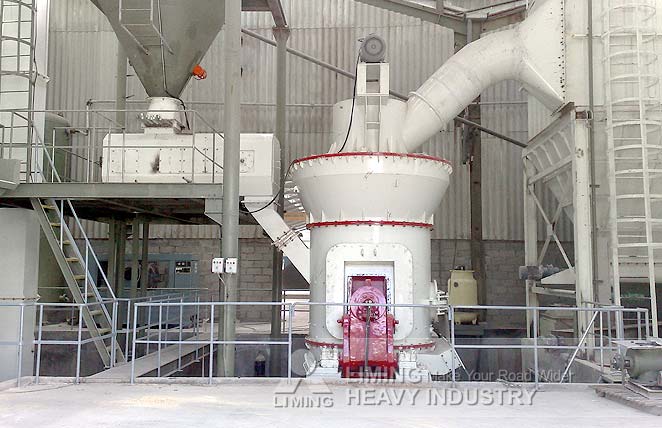 LM130N Vertical Mill for silica sand processing in Indonesia
Equipment: 2 sets of LM130N Vertical Mill
Raw material: silica sand
Output size: 325 mesh
Capacity: 10-12 t/h
<<Previous:LIMING stationary crushing line, Processes aggregate professionally
<<Next:Mobile crushing plant serves global aggregate investors