Liming Heavy Industry's Sand Making Machine at Bauma China 2020
This year's the 10th BAUMA CHINA will be held at Shanghai in China on 24th-27th, November. Liming Heavy Industry will actively participate in the exhibition with the latest sand making machine. There are many kinds of sand making machine including VSI sand making machine, VSI5X sand making machine, VSI6X sand making machine, VU system equipment and so on. Besides high quality equipment, the company will provide sincere service such as Engineering Procurement Construction project in the exhibition. Let's introduce these products as follows:
Adopting quality raw materials and advanced technologies, VSI Vertical Shaft Impact Crusher ensures high-quality and good abrasion performance. This machine switches the working principle "crushing between materials" to "crushing between materials and liners", which can be used to make sand and shape stones.
VSI5X Vertical Shaft Impact Crusher is popular in the market. This machine can satisfy customers' requirements about efficiency and capacity, because its service life is increased by 48%, the costs are reduced by 30%, and the throughput of materials is improved by 30%.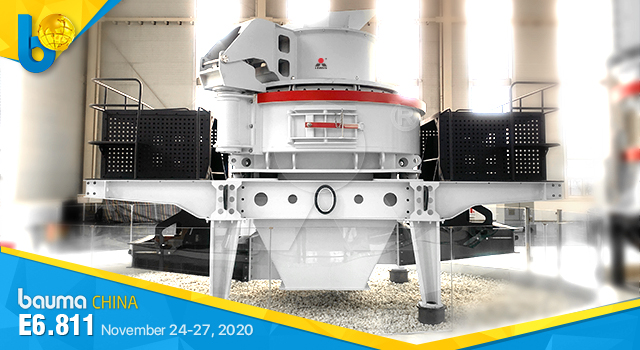 Based on more than 30 years of experiences, VSI6X Series Vertical Shaft Impact Crusher carrying many patents amazes the market greatly. This machine is possess of four openings impeller, special sealing structure and sealed cartridge bearing structure, which makes production convenient and efficient.
Liming VU dry process of sand and gravel aggregate system with the most reasonable, greatest degree reproduce naturally in the process of natural sand formed broken, erosion action such as friction, natural washing, make product sand performance is improved. - 15 mm raw materials (can be stone chips, pea stone and other cheap accessible raw materials such as stone) after dealing with the VU system is reasonable and efficient, reasonable distribution, grain output fruity, controllable sand powder content, as well as dry clean, can undertake unity recycled high value-added powder (determined according to the raw material can be used).
If you are interested in the sand making machine, you can click on the online customer service for a detailed consultation.
<<Previous:The price of 80T/hour large-scale mobile dry sand making machine
<<Next:How much is a large nickel slag vertical mill?

Copyright © 2004-2021 by China Liming Heavy Industry Science and Technology Co. LTD All rights reserved
版权所有©河南黎明重工科技股份有限公司