Crushing line is more popular in construction market
Stone crushing line is special equipment producing construction materials, which can save 50 percent of energy compared with traditional sand making machine. It can process rock, sand and river stone into construction materials with different sizes. Because of uniform size and high compression strength, these materials can satisfy construction requirements and improve building quality.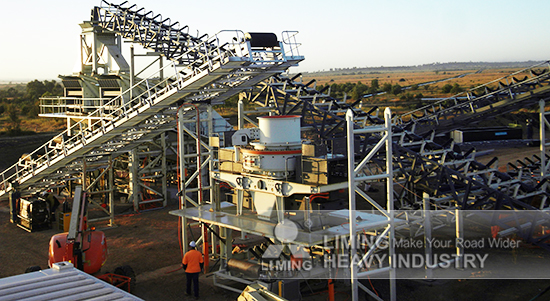 Stone crushing line takes advantages of reliable performances, reasonable design, convenient operation and high efficiency. Stone crushing line starts with vibrating feeder. Vibrating feeder sends materials to jaw crusher and then sends to sand making machine, impact crusher or hydraulic cone crusher. After that, aggregated rock will be screened out by vibrating screen and sent to sand washing machine for cleaning. Finally the aggregate satisfying requirements are got.
<<Previous:Belt conveyor made in Liming Heavy Industry is ideal conveying equipment for colliery
<<Next:K Series Mobile Crushing Station - mobile crusher large capacity‎
Copyright © 2004-2020 by China Liming Heavy Industry Science and Technology Co. LTD All rights reserved