Sand making line of Liming Heavy Industry
Because aggregate is an important component of concrete, which affects the quality and durability of the whole project, it is important to select machine made sand with reasonable gradation and round shape to replace natural sand and provide strong help for construction. At present, the equipment used for processing are jaw crusher, impact crusher, cone crusher, sand making machine, etc. When combined with two-stage or three-stage crushing process, the machine-made sand with reliable quality can be obtained. Of course, it is necessary to select equipment with large capacity, high efficiency, scientific and reasonable technology, which is conducive to improving the comprehensive benefits of the project.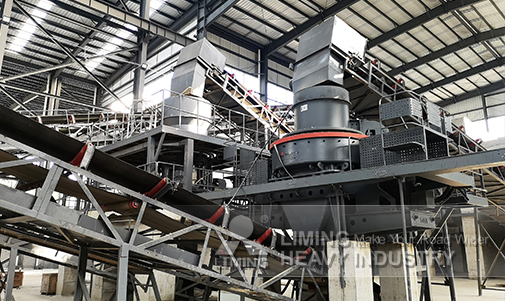 Liming Heavy Industry has a complete set of machine made sand processing equipment, and they are researched and developed independent, and takes advantages of excellent quality, advanced design and reasonable price. Coarse crushing equipment includes C6X jaw crusher, PEW jaw crusher, PE jaw crusher and so on. Medium and fine crushing equipment includes CI5X impact crusher, HPT multiple cylinder hydraulic cone crusher, HST single cylinder hydraulic cone crusher, etc. Sand shaping machines include a series of equipment such as VSI6X sand making machine. In addition to the traditional sand production line, the company also provides VU aggregate optimization system, a new type of dry type sand production equipment, which can not only process stone chips and other cheap raw materials, but also produce finished sand with reasonable gradation, round shape and controllable powder content, as well as dry and clean stone powder.
Liming Heavy Industry has a total industry chain covering 1.2 million square meters, providing a strong basis for product manufacturing. Of course, the Zhengzhou headquarters factory, which is equipped with product exhibition hall, processing workshop and R&D base, also opens its door to customers. Liming Heavy Industry welcomes your visit.
<<Previous:The advantages of VU aggregate system
<<Next:How much is the Blast Furnace Slag GGBS grinding mill?