Green aggregate production line
Green aggregate production line adopts clean and environmental friendly processing technology. There is less dust and low noise during the whole process. It will deal with construction waste and minimize the negative impact on the environment. Not only that, the main equipment should also meet the environmental protection indicators, so as to make full use of its performance and energy.
Liming Heavy Industry has been working hard to build a green aggregate production line. In 2008, the wheel type mobile crushing station was introduced, which enables recyclable building materials such as construction waste and waste concrete to be reprocessed. In 2014, VU aggregate optimization system was launched to the market. It adopts enclosed tower type to avoid dust and to solve the problems of sewage and silt. In succession, equipment is upgraded and renovated, and implements the concept of environmental protection. The company maintains the green manufacturing process, and strengthen the implementation of dust and noise control measures.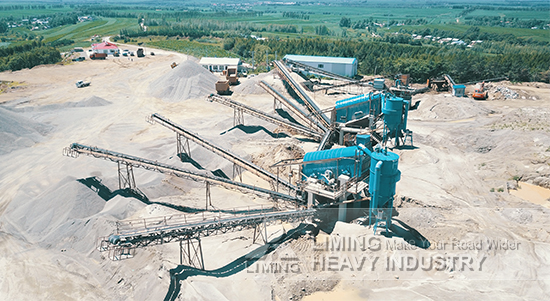 Liming Heavy Industry can not only provide mobile crushing station, VU aggregate optimization system and other green aggregate processing equipment, but also can provide C6X jaw crusher, CI5X impact crusher, HPT cone crusher, VSI6X sand making machine and other products to create customized crushing sand production line for you. Here is a one-stop service system covering project design, equipment selection, installation and commissioning, operation training, regular visit and so on. Liming Heavy Industry looks forward to cooperating with you.
<<Previous:Market Competitiveness of LM Vertical Mill
<<Next:Gypsum grinding mill