Fine aggregate preparation process
The preparation process of fine aggregate is more complicated and strict. For the fine aggregate preparation process, Liming Heavy Industry often recommend the three stage crushing process. First, the vibrating feeder feeds the raw materials into the primary crusher such as jaw crusher, and then conveys it to HPT multi-cylinder hydraulic cone crusher or HST single-cylinder hydraulic cone crusher for fine crushing. Aggregates that meet the size requirements can be shaped by VSI6X sand making machine, and those that do not meet the requirements can be reprocessed by cone crusher again. Finally, VSI6X sand making machine will do the final work and shape them, then the particle size meets the requirements will be output.
Both HPT multi-cylinder hydraulic cone crusher and HST single-cylinder hydraulic cone crusher adopt lamination crushing principle, which greatly increases the proportion of cubic aggregate. But the two have their own advantages. HPT multi-cylinder hydraulic cone crusher adopts the optimized structure of fixed spindle and small spherical shaft, which can effectively improve the crushing efficiency. The advantage of HST single cylinder hydraulic cone crusher is automatic control system. It provides a variety of operation modes, such as manual control, constant discharge and constant outlet control, constant power control and so on. It is convenient for users to operate.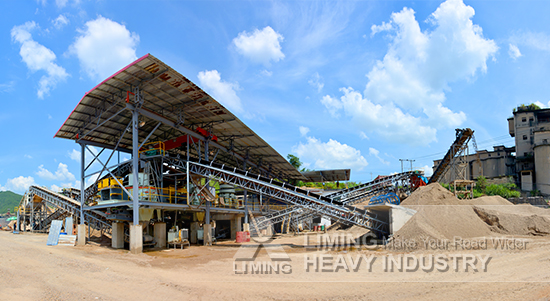 As a classic continuation of VSI series, VSI6X sand making machine adopts new four openings impeller design, which greatly improves the material throughput. The structure of impeller part has been optimized and adjusted, and the service life has been prolonged. In this design, the concept of humanization has been constantly interpreted in the equipment, such as lifting device can make maintenance convenient and fast.
Whether the preparation of coarse aggregate or fine aggregate, Liming Heavy Industry's products have covered all aspects of crushing, medium crushing, fine crushing and so on. And each link of the equipment has at least 2 - 3 series of models to choose. Of course, single equipment can also be assembled to get a whole crushing production line, which has advantages of high fit, good matching and full performance. If you have higher requirements for the preparation of aggregates, LIMING crushing equipment will be a good choice.
<<Previous:application of aggregate in commercial concrete
<<Next:Classification of crushing stations in open-air mines